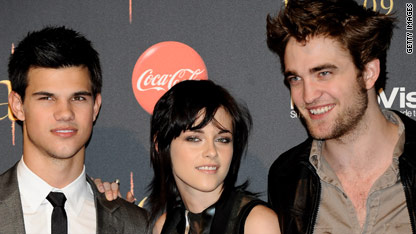 testing captions
"New Moon" is already more popular than its predecessor "Twilight" when it comes to advance ticket sales.
 According to movie ticketing company Fandango, the vampire romance sequel currently ranks fourth in the company's advance ticket sales list, surpassing "Twilight" at number 5.
"Ever since we started selling advance tickets to New Moon on August 31, the demand has been unstoppable, as the fan base just keeps growing every day," said Fandango Chief Operating Officer Rick Butler. "'New Moon' is tracking to be Fandango's number-one top advance ticket-seller of all time."
The film, based on the bestselling vampire novels by Stephanie Meyer, hits theaters next Friday, November 20. Thousands of midnight screenings are already sold-out across the country.
According to a recent Fandango survey of more than 2,000 New Moon ticket-buyers, the first "Twilight" movie helped to fuel the fan frenzy over the book series and the movie saga with 55% of respondents saying that "Twilight" inspired them to read all of the books by Stephanie Meyer and 51% saying they plan to see "New Moon" more than once in the theater.
At this rate "New Moon" could potentially surpass the top three advance-selling movies of all time on the site, "Star Wars: Episode III  Revenge of the Sith", "Harry Potter and the Half-Blood Prince" and "The Dark Knight."