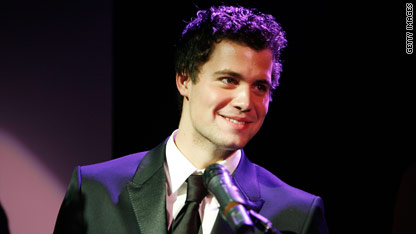 testing captions
Levi Johnston, the father of former vice presidential candidate Sarah Palin's grandson and soon-to-be Playgirl model, received an award last night from Gawker Media's adult website, Fleshbot, for his full-frontal contribution to pop culture.
The Marquee blog caught up with Levi, escorted by a large bodyguard named Tank, before he took the stage at Manhattan nightclub, "The Box" to accept his trophy, an 11-inch custom-crafted sexual device. A man of few words, Levi shares his thoughts on cougars, dating and how he thinks he will measure up in Playgirl.
CNN: When you were growing up did you think you think to yourself, "I want to be a sex symbol?"
LJ: No. I was a kid from a small town, just doing my own thing, thought I'd follow the family trade and be an electrician. Never thought I'd be in the public eye at all.
CNN: If you could do anything outside of entertainment when you grow up what would it be?
LJ: I don't know. I mean this is my life now and I want to be in movies acting and the most important thing is my kid.
CNN: Right, Tripp, are you going to let him see these photos of you that are going to run in Playgirl magazine?
LJ: I'm sure when he gets older and develops the internet I'll have to tell him. He's going to to see it and I'm going to have to tell him about it.
CNN: So what are you going to say to him about them?
LJ: Ugh, I don't know. I'll figure it out when the time comes, I guess.
CNN: How do you psych yourself up for a nude photo shoot? Breathing exercises?
LJ: I don't know. I don't really get nervous about photo shoots and things like that. First couple of shoots you're tense, but after the first five minutes, a couple of shots, it gets easier and naturally you just loosen up and get comfortable with the people.
CNN: So are you nervous about how you're going to, and excuse the pun, stack up? There's a lot of judgment out there.
LJ: That's cool [glance down] I think I'll be alright.
CNN: How do you feel about the fact that Playgirl has a mainly gay male audience?
LJ: That's totally fine. I've got a huge fan club. You know I don't have a problem with gays and who am I to judge what people do. That's cool.
CNN: How do you feel about all the older women nationwide who refer to you as "sweet cheeks."
LJ: I think the older women definitely like me…a bunch of cougars. It's funny it's cool. But I'm not looking to date any of them.
CNN: Interesting. So who are you looking to date?
LJ: Right now I'm just, you know, staying open and I'm not really looking to date anyone right now... Keeping my head straight and focusing on the important things.
CNN: And what are the important things?
LJ: First my kid, getting him and getting my career on the right track and doing what I want to do.
CNN: Do you always travel with these gigantic men?
LJ: They go everywhere with me.