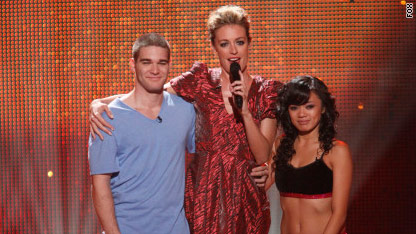 testing captions
Many of the couples on Tuesday night's episode of "So You Think You Can Dance" didn't exactly have their best night with the judges, and things didn't get much better on Wednesday night's results show. Six seasons in, Nigel Lythgoe and crew expect a lot, especially when it comes time to "dance for your life," and they weren't terribly pleased with what they saw.
After a group routine by Dave Scott got the show off to a rousing start, the couples in danger were somewhat of a surprise. I thought that Mollee and Nathan definitely deserved to be in the bottom three, but voters thought otherwise. Kudos to Nigel for pointing out the obvious, that Nathan has the teenage girl vote all wrapped up, but that's not exactly teaching him growth as a dancer. Instead, Kevin and Karen, a couple with some of the best chemistry this season (despite a hit-and-miss hustle this week), faced possible elimination.
Joining them in the bottom were Peter and Pauline - proving that it's virtually impossible to draw the quickstep and not get the same result, and Ryan and Ellenore, two of the strongest dancers this season, who nevertheless faltered at hip-hop.
When it came time for the solos, following an electrifying performance by the Alvin Ailey American Dance Theater, Ryan and Ellenore were just as great as I remembered them from Vegas, while the rest were varying degrees of "meh" (Kevin, in particular, was a little too reminiscent of Twitch). After lecturing Nathan earlier in the show, Nigel had a lot to say about how weak he felt everyone's solos were, in comparison with some of the brilliance last season from Jeanine, Ade and Brandon. Last season had some unusually good solos, but if Ellenore's solo wasn't brilliant, I don't know what is.
The judges did make the right call in eliminating Peter and Pauline, though it especially pained me to see another tapper go. It's true that both of them showed less versatility and personality than the rest thus far (and losing Karen, Ryan or Ellenore this early on would be a real travesty).
Do you agree that the judges made the right choice? Should Nathan and Mollee have been in the bottom three? Share your thoughts on video or in the comments below.