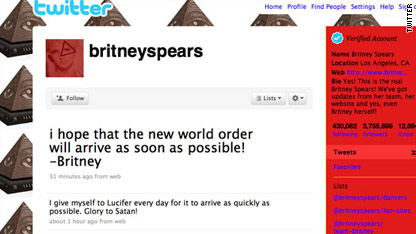 testing captions
Britney Spears and the devil? If you'd logged on to her Twitter account recently, that might have been the impression.
Hackers appear to have struck the singer's Twitter account on Thursday, altering her wallpaper and posting the following tweets:
"I give myself to Lucifer every day for it to arrive as quickly as possible. Glory to Satan!"
"i hope that the new world order will arrive as soon as possible! -Britney"
The Illuminati wallpaper and offending tweets were quickly removed. #DontHackBritneySpears later appeared as a popular trending topic on Twitter.
Such occurrences are not rare in the celebrity twitterverse and it's not the first time @BritneySpears has been targeted by hackers. In June, a tweet was posted claiming that the pop star had died.