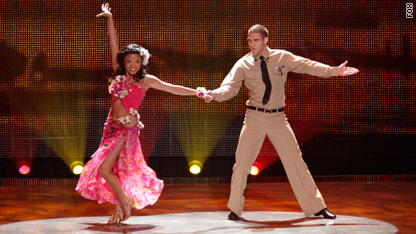 Pauline Mata and Peter Sabasino perform a Quickstep choreographed by JT Thomas and Tomas Mielnicki.
It was a rude wake-up call for quite a few couples on Tuesday night's "So You Think You Can Dance," and at least half of them look in danger of going home once the audience and judges have their say.
Mollee and Nathan, in particular, fell far from last week's amazing Bollywood routine, performing one of the most awkward, sloppy salsas ever seen on the show. They have to be thanking their lucky stars that audience voting has started, because Nathan's popularity might very well be their only shot at making it into the top 14.
It's been a while since we've seen Lil' C choreograph, and as much as I love the guy, this wasn't worth the wait. Ballroom dancer Ryan was way out of his comfort zone, and despite a valiant effort, it showed. His partner Ellenore, normally a highlight each week, wasn't much better.
More controversial were Pauline and Peter's joyful quickstep, Channing and Victor's contemporary routine and Kevin and Karen's hustle. They all had a few highlights here and there (see Kevin's jete'), and the judges generally liked them, but they were all missing something. Channing and Victor have yet to really impress me this season, and if anything, they lucked out with great choreography in their own style. I still don't see them sticking around much longer. Karen's incredible stage presence will likely keep her safe, leaving the "kiss of death" quickstep to put yet another couple in danger.
I have to hand it to Ashleigh and Jakob, though. Jakob is clearly one of the most skilled dancers this show has ever seen and he's rubbing off on Ashleigh as well. I'm a sucker for an '80s-inspired Mandy Moore jazz number, and their cane routine to "Relax" is another one of her best.
Legacy and Kathryn are still my favorite couple, and even though Kathryn didn't quite get into character, I really didn't care. This Broadway routine by Andy Blankenbuehler was a lot of fun, and judge favorite Legacy is looking more and more like the real deal.
Finally, Russell and Noelle took on Afro-jazz for the first time on this show, and it was a very welcome finale after so many sub-par dances. Their chemistry and technique were superb, and I have a feeling we'll see more of choreographer Sean Cheesman in the future.
Who had your vote Tuesday night? Do you agree with my guesses on the bottom three couples? Share your thoughts on video, or in the comments below.