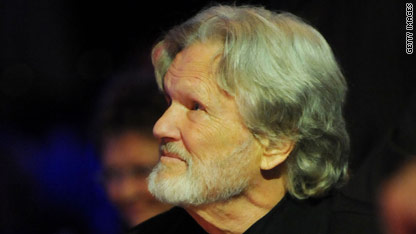 testing captions
There's Young Hollywood, and then there's Young Nashville - bright, beautiful young music stars like Taylor Swift, Lady Antebellum and Jake Owen. But at the "57th Annual BMI Country Awards," the buzz was all about Kris Kristofferson, who was named the songwriting organization's 2009 Icon.
At 73, Kristofferson still has "It" - the charismatic swagger, the blue eyes that see the world with unflinching truth, the ability to tell gritty, haunting stories set to song, like "Sunday Mornin' Coming Down, " "Help Me Make it Through the Night" and "Me and Bobby McGee."
"You just look at him, and it's the lines on his face that tell stories. It's his hair. I know it sounds odd, but the guy's revered in a way that's usually in the same sentence with people like Johnny Cash, and Waylon Jennings and Willie Nelson," said Owen, who'd just introduced himself to "Mr. Kristofferson" a couple of minutes earlier.
Heidi Newfield added, "When he did 'A Star is Born,' he had women taking cold showers all over the world. He had a charisma, and sexy just oozes all over him. But you add this with the fact that he's a Rhodes scholar, and he chose this path rather than becoming a professor (Kristofferson turned down a teaching post at West Point to become a janitor in Nashville) - I think we're all the better for it."
Kristofferson broke down and sobbed for a moment, as Vince Gill, Patti Griffin and longtime pal Willie Nelson sang a touching trio of some of his best-loved songs. "The great thing about being a songwriter is you can hear your baby interpreted by so many people that have creative talents vocally that I don't have," he confided to us earlier on the red carpet. He laughed when reminded of how he came to Nashville in 1965, and gave up a promising career in academia for an uncertain future in the music biz. "My mother thought I was crazy," he admits. "I never doubted once that I was in the right place."