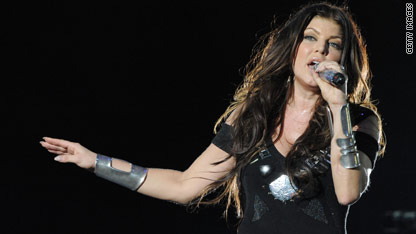 testing captions
Prior to tabloid reports that her husband  Josh Duhamel had an affair with an Atlanta stripper, Black Eyed Peas singer Fergie told the Advocate magazine that she has some strict rules about cheating in her marriage.
That interview now appears in the December-January issue of the Advocate. Fergie told the magazine that her rules for cheating also apply for same-sex relationships.
"I've had a lot of fun with women, and I'm not ashamed of it," she told the magazine. "But just because I enjoy women doesn't mean I'm allowed to have affairs in my relationship."
Fergie said she came to this conclusion with the help of a therapist and that she has shared her history of same sex relationships with her husband Josh. ""I learned through talking with my therapist that it is still cheating even if it's with girls, so there is a rule there."
The interview has been released amid rumors that Duhamel had an affair with an Atlanta stripper named Nicole Forrester. Fergie has released a statement calling the stripper's allegations "nonsense."
Fergie, whose real name is Stacy Ferguson, is appearing in the soon to be released movie musical "Nine" as Saraghina, an Italian prostitute who seduces a young filmmaker. She also told the magazine that she could relate to her character flirting with and seducing a younger man.
"There will be teenage boys at my shows, so sometimes I'm seducing them from the stage. It's not like anything's going to happen - it's very playful and flirtatious - but it's funny because I'm 34 and they're 14. So I get that about Saraghina."