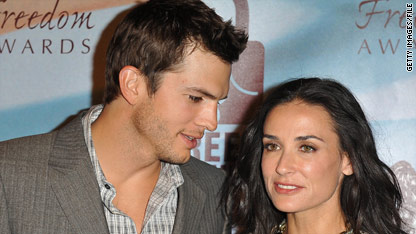 Seemingly ageless actress Demi Moore turns 47 tomorrow and she is blaming her age on the loss of all the good blockbuster movie roles.
"The frustrating part is that the type of roles I'd be interested in are not really coming to me. I hate to say it's a function of my age – but yes, I think in some ways it is," Moore told W magazine in their December issue. "The majority of [female] roles are geared between 25 and 35. I know I have an eccentric, obsessive-compulsive side. I'm looking for roles that reach into that quirkier place."
Moore has become more famous in recent years for her marriage to "That '70s Show" actor Ashton Kutcher, 16 years her junior, than for her acting chops. But even though she accepts all the press criticism with a quiet grace, the actress told the magazine she doesn't understand why she has been singled out as the poster child for May-December relationships since she isn't the first older woman to marry a much younger man in Hollywood.
"I'm certainly not the first person to be in a relationship with a younger man, but somehow I was plucked out as a bit of a poster girl," Moore said of her six and half year relationship with Kutcher. "I don't know why that is. But I just kind of step back sometimes and say, 'There is some reason, and what is it that I have to share in a positive way?'"
The "Ghost " actress also told the magazine if people feel the need to assign her a label she prefers the title "puma" to the more derogatory "cougar."
While Moore may not be getting the big studio roles she does star in two upcoming independent films, "Happy Tears" and "The Joneses" with David Duchovny. She is also the face of Helena Rubinstein's new "Wanted" perfume.