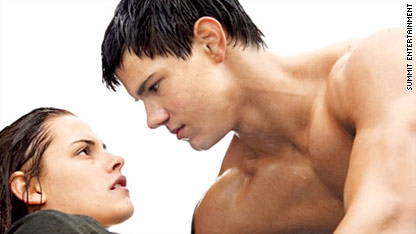 testing captions
The producers of the "Twilight" movie franchise are suing a fan magazine for publishing unauthorized photos of the film's stars in their fanzine aimed at teens.
Summit Entertainment, the producers of the films based on Stephanie Meyer's best-selling teen vampire novels, claimed in a lawsuit filed in U.S. Federal Court on Friday that Beckett Media is using unauthorized publicity stills from the movie that feature images of the film's stars Robert Pattinson and Kristen Stewart.
Summit alleges it has sent Beckett a cease-and-desist letter according to TMZ.com, but the company still released a second unauthorized magazine. Summit is seeking an unspecified amount in damages from Beckett, which specializes primarily in collectible gaming magazines.
The second installment in the Twilight series, "The Twilight Saga: New Moon," will hit the big screen on November 20.
Fans who are looking for authorized behind the scenes information can tune into the November 13 episode of "Oprah," where Meyer will give her one and only media interview to promote "New Moon."
"You know I've been doing the hermit thing this last year, in so far as media is concerned, and I'm not changing that now, but I am making an exception," the reclusive Meyer wrote on her website. " I'm doing this for a good reason: I am so pleased and amazed and thrilled with what Chris Weitz has done with 'New Moon' that I want to talk about it, and to show my support for him."
"And since I'm only doing one interview, better make it big. Really big. So....I will be on The Oprah Winfrey Show on Friday, November 13th," the note on the Web site went on to say.