It's officially a "So You Think You Can Dance" season now that we've been blown away by a few dances, and had a couple of emotional goodbyes to some early favorites on Tuesday night's show. Last week's injured Noelle was back but the judge's chair set aside for Paula Abdul, alas, remained empty as the top 18 took the stage.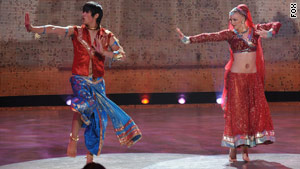 Unfortunately for Noelle, her first performance with Russell didn't fit the bill. Their tennis-inspired hip-hop dance was just a mess, and it just goes to show you that not every routine involving a prop is a winner.
Also looking bad out there were Channing and Phillip, who admitted that they struggled through a samba with some of the most awkward lifts I've ever seen on the show.
I had high hopes for Victor and Bianca's "Color Purple"-inspired routine but they just didn't bring the passion that was required. By this point, it was pretty clear to see that two of these six dancers probably wouldn't be back.
But enough about the sub-par performances, because there was also plenty to cheer about last night: Jakob continues to blow everyone away, and his partner Ashleigh finally matched him in their Viennese waltz.
Fellow ballroom dancer Karen shined brightly as well, absolutely nailing a NASCAR-inspired hip-hop dance with partner Kevin. The judges heaped praise on her, and this week, at least, I agree with them.
So far, this show has batted 1,000 with Bollywood routines, and I have to agree with judge Mary Murphy that Nathan and Mollee brought a new energy to it. Mollee especially took it to the next level.
Legacy, however, brought it to the next dimension. He and Kathryn, whose contemporary routine about fear brought the house down, are quickly becoming my favorite couple. I have to agree with the judges that he is surprising us at every turn with his growth.
The excellent performances continued, as Peter and Pauline flawlessly inhabited characters trapped in a Van Gogh painting (a Wade Robson production, of course, which I definitely liked more than the judges), and Ellenore delivered an incredible Argentine tango with Ryan, despite the fact that her dress was caught in her heel during most of it.
As the judges made their picks for the bottom four, it was already clear that this would be tapper Phillip's swan song, and he gave an emotional goodbye speech, mentioning the fact that half of the dancers showed up at his father's funeral just days before, and even the unflappable Cat Deeley couldn't hold back the tears. It was less predictable, and a real shame to say farewell to another tapper on the same night: Bianca, who had one of the most infectious personalities of anyone in the top 20.
Next week, the audience finally gets to weigh in on who should stay and who should go. Do you agree that Bianca deserved another shot? Did Ashleigh, Mollee, Legacy and Karen wow you this week as well? Post a video iReport or comment below.