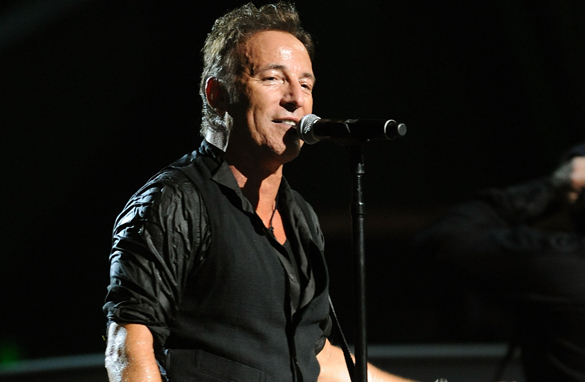 Producer Doug Ganley blogging from backstage at Madison Square Garden where the Rock and Roll Hall of Fame concert took place Thursday night.
A long night at Madison Square Garden wrapped up close to 1:30 on Friday morning with Bruce Springsteen belting out "Born to Run" with Billy Joel.
The concert started late and the sets were pretty long.
Take Stevie Wonder who was on stage for more than an hour and told the crowd that he was there to "turn this mother out!"
There were some moments that definitely stood out for me at the end of the night.
Art Garfunkel and Paul Simon arm in arm performing some of their biggest hits. Garfunkel said backstage that he and Simon had "a lovely falling back together again," after their long feud.
Stevie Wonder, John Legend, and BB King singing "The Thrill is Gone" definitely riled up the audience as well.
But Bruce Springsteen took the cake. He came out on stage just before midnight and played until well after 1 am.
This is not a young crowd, and I'm sure at least some of them had to be at work in the morning, but it looked like they kept the place pretty full through Bruce's set.
They were flying when Bruce brought out Sam Moore to sing "Hold On I'm Coming." You may not recognize Moore's name (he's from the duo Sam & Dave) but you've heard his voice, which Bruce called "one of the best voices of all time."
The crowd  got louder when the Boss was joined by John Fogerty for "Fortunate Son" and "Proud Mary."
But the favorite moment for the New York audience came when Bruce discussed his theory of continental drift and how that separated Long Island and New Jersey.
To reunite the two, he held a "Bridge and Tunnel Summit," with Long Island's own Billy Joel. The term comes from how people, who live in New York City, disdainfully refer to their suburban neighbors. Everyone loved the pair singing Joel's hit "New York State of Mind."
As the concert wrapped up,  even the celebrities discovered that it can be tough to get out of the Garden. As I walked out I saw Shania Twain trying to get past some determined autograph seekers and into her car.
The concert will air on HBO November 29th, after it's edited down and combined with another show starring Metallica and U2 scheduled for Friday night.
One of the persistent topics backstage was what bands will eventually wind up in the Rock Hall of Fame. So I'll put it out to you, what acts do you think should be enshrined in the Cleveland museum?