Producer Doug Ganley blogging from backstage at Madison Square Garden where the Rock and Roll Hall of Fame concert took place Thursday night.
The first highlight of the night came when Paul Simon and Art Garfunkel took the stage arm in arm. The audience loved renditions of "Sounds of Silence," "Mrs. Robinson" and "Bridge over Troubled Water."  They walked off to a standing ovation from the crowd and gave one last encore with "Cecelia."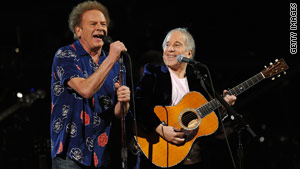 Crosby, Stills and Nash followed with a good set and some assistance from Bonnie Raitt, Jackson Browne, and James Taylor. David Crosby told us backstage that they are able to keep their songs fresh because, "We don't remember how we did it last time."
The crowd is into it, but definitely skews a little older. With all of the grey hair out there, I bet this is one of the only nights at Madison Square Garden where the beer vendors haven't asked anyone to show an I.D.
Bonnie Raitt told us that she was having a ball. "The hallways are happening" she said, "I wish this could last a month."
Stevie Wonder just took the stage, and after battling technical problems started off with a cover of "Blowing in the Wind." Covers seem to be a theme tonight because Crosby Stills and Nash say they're going into the studio tomorrow to do an album of covers.
Which brings to mind the question what's your favorite cover?