Tom Hanks is pumped! He's producing the Rock and Roll Hall of Fame concert at Madison Square Garden tonight. While backstage, he offered up more of the  "Bachelor Party" Tom than Academy Award winner Tom, jokingly calling the press "jaded sons of a b-tch" and making reference to a movie title that I cannot repeat on a family blog.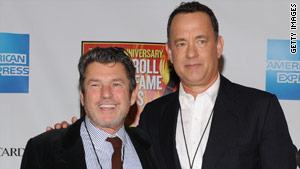 He struck a more serious note when talking about the line-up which includes Bruce Springsteen, Stevie Wonder, Crosby Stills and Nash, Bonnie Raitt, and Sting to name just a few. The concert is being filmed for a HBO special that will air Thanksgiving weekend. "I just did it for the all access pass," he joked. "I'm a fan, but I don't know what to say to these guys," he admitted.
The funniest moment of his quick press conference came when a reporter asked him about his favorite song of the year. He had to think about it for a second, but after his wife Rita Wilson helped him he said "ohhh Beyonce."  He couldn't remember the title, so he started flapping his hand and singing "Da da da da duh da da da" until someone helped him out by shouting "Put a Ring on It?" That was it, "and Kanye West had nothing to do with me picking that song," he concluded.