Disney star Selena Gomez is proof positive that age is nothing but a number when it comes to philanthropy.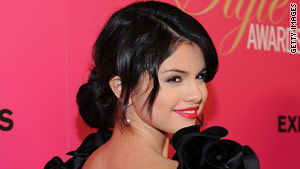 The 17-year-old actress and singer is the youngest ambassador the family-focused non-profit UNICEF has ever had. Gomez is following up a her week-long September trip to Ghana with a Halloween-themed fundraising drive to help kids around the world get the everyday basics we can easily take for granted – things like clean water, food and education.
The "Wizards of Waverly Place" actress raised $700,000 last October for the UNICEF fundraiser, but this year she's aiming to reach a $1 million goal. If you're heading out for trick-or-treating on All Hallows' eve, you can help Gomez raise some funds by taking along a UNICEF trick-or-treat collection box, or head to her UNICEF site to join her team and offer a donation.
The top three fundraisers will get an autographed picture, a UNICEF certificate of appreciation and a personal phone call from Gomez herself.
Be sure to check out Gomez pushing for good on her live stream today at 4 p.m. PST.