Here's what's happening in the world of entertainment today:
Rumors that the Jonas Brothers are breaking up are greatly exaggerated, People reports. The band wrote a letter to fans saying, "We plan to make music together for as long as we can."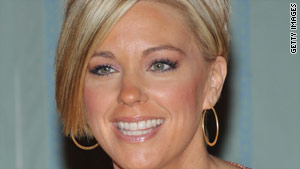 TLC has a one-hour special, "Kate: Her Story," set for Monday night, according to EW.com, while more episodes of "Jon & Kate Plus Eight" are planned for the remainder of next month, using old footage, and the final filmed episode before shooting was suspended.
Variety reports that Adam Sandler will play both the male and female leads - twins, in fact - in the romantic comedy "Jack and Jill."
Dramas aren't entirely dead at NBC: The Hollywood Reporter says that the network is developing a "hard-hitting legal drama," starring "The Office's" Idris Elba as a vigilante lawyer.