The top 20 dancers finally took the stage as ten couples on Tuesday night's "So You Think You Can Dance," and just as quickly got whittled down to the top 18.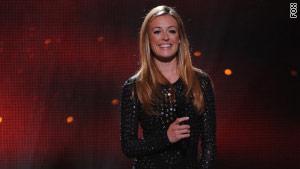 Without Noelle, choreographer Melanie LaPatin stepped in to dance a fox trot with krumper Russell, and you would think the guy had been doing this for years. Newly-minted permanent judge Adam Shankman praised his "effortless grace," and Nigel called him an inspiration for many dancers, and I couldn't agree more.
Jakob and Ashleigh took the stage just before that to perform a Tyce Diorio Broadway routine and it became clear that Jakob is going to be around for a long time. I have yet to be all that impressed with Latin ballroom dancer Ashleigh, and I thought she fell short here, but the judges once again felt that she continued to show growth.
Someone who also could have been easily out-danced was Kathryn, who was paired with B-boy Legacy for an inventive hip-hop routine by Dave Scott, where the two portrayed evolving neanderthals. I was stunned to find that she nearly stole the show here. As Mary Murphy said, "Pebbles and Bamm-Bamm really busted a move!"
Another stand-out was Ryan and Ellenore's "falling angel" jazz routine, and like much of what Sonya Tayeh choreographs, it was definitely out there. The pair really pulled it off, though, and it didn't hurt that this was in Ellenore's wheelhouse. Ryan is looking more and more like the one to beat.
The judges (especially Nigel) were cool to "androids" Ariana and Peter's hip-hop routine and Brandon and Pauline's smooth waltz, and I agree on the first one, at least. Considering that Brandon had a day and a half to rehearse, and this was less his style than Pauline's, I thought he wasn't half bad.
Meanwhile, the judges raved about Mollee and Nathan's disco, which I found lacking. Several of the tricks came off as awkward to me, though it finished strong. Channing and Phillip's jive suffered from the curse of being the first dance and didn't leave a lasting impression., while Karen and Kevin's mediocre cha-cha couldn't even be helped by the "Glee" cast's rendition of "Push It."
Finally, it was down to the judge's big decision. One of my favorites, Pauline, was placed in the bottom two girls with Ariana, while Brandon was placed in danger with, shockingly, Russell.
Neither Ariana nor Pauline blew me away with their solos, but Pauline is better, hands down, and the judges agreed.
As for Russell, what were the judges thinking? Well, we got a pretty good clue once Nigel announced that he was going to ask the powers that be to allow Brandon to try out for next season, as he would be leaving the competition. Plus, maybe they just wanted to see Russell dance for his life again.
Talk to you next week when they do it all over again. In the meantime, fire up your webcam and tell us which dancer impressed you the most, or share your thoughts in the comments below.