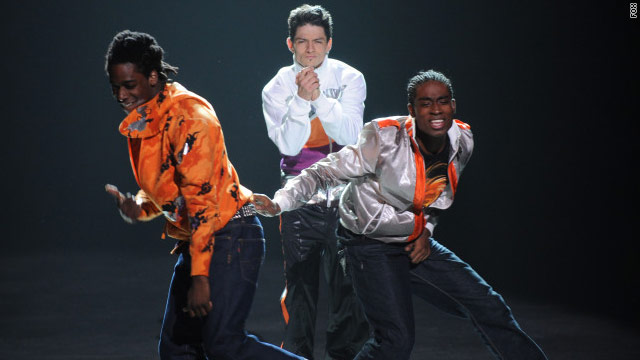 "Season six is gonna be sick," pronounced jazz dancer Mollee last week, and judging by Monday night's special "Top 20 intro" show, it's certainly looking that way.
For the first time ever, all of the dancers were divided up into different styles and had the chance to show off their skills in their own style, and the result was a quick, entertaining hour, without the threat of elimination (that comes tonight). Before they got to that, the top 20 had a group routine choreographed by Wade and Amanda Robson about four rival gangs in the 1930s, and this one really worked for me - though, of course, the Robsons rarely disappoint.
Then, Russell, Kevin and Legacy performed a fun, frenetic hip-hop routine choreographed by Tabitha and Napoleon. Once again, krumper Russell caught my eye the most, but Kevin is certainly a force to be reckoned with. As for Legacy, as much as I liked him in his auditions, I can practically hear the words "you're very good at what you do, but..." coming from Nigel Lythgoe in a future episode.
Tyce Diorio's contemporary routine with Nathan, Ariana, Jakob and Channing was a disappointment overall. Mary Murphy said that she was "dizzy" afterward, but she found it "touching." I would just stick with "dizzy." There was a lot going on here, but no doubt Nathan and Jakob are definitely potential front-runners. Nathan's pirouettes and airborne Jakob stood out.
Bianca, Phillip and Peter took the floor next for the first ever tap-dancing routine, choreographed by Derick K. Grant. I know that Phillip rubs a lot of people the wrong way, but I still liked him here. Peter has a lot of potential, not to mention personality, so I wouldn't count him out. I've been a fan of Bianca's but she seemed a bit winded towards the end of this dance.
Sonya Tayeh gave dancers Mollee, Pauline and Ellenore quite the work-out of their jazz dancing skills. All three ran out of steam in the last 30 seconds or so, and at one point it seemed like Mollee took a bit of a spill, but Pauline, who was almost out of the top 20 due to an injury, really stood out for me (Ellenore a close second).
Mandy Moore's contemporary routine was the highlight of the night (a "relentless work of art" according to Adam Shankman), and it really showcased the brilliance of Billy Bell. This made it all the more bittersweet to hear, prior to the show, that Billy has since fallen ill and has had to leave the show. As for the rest of the dancers, they were all good but the most pleasant surprise of the night for me was Noelle.
The grand finale was Jason Gilkison's Latin ballroom routine, which deserves a lot of kudos for finding a way to use three dancers without being awkward. Married couple Ryan and Ashleigh teamed up with Karen for this fiery dance, and once again Ryan stole the show. I don't see Ashleigh sticking around for long, and Karen's skill isn't matched by a big personality thus far (see past seasons' Heidi, Pasha and king-of-the-hams Benji).
Of course, as the top 20 become ten couples (with Billy's replacement Brandon Dumlao set to join them), a lot will depend on who is paired with whom, so Tuesday night's show will give us an even better idea of what to expect, not to mention the loss of one guy and one girl. Until then, who do you want the judges to send home? Did any of the dancers surprise you? Share your thoughts on video, or below in the comments.