I spent part of my childhood in Sparta, New Jersey.  While I enjoyed my time there, the early transition from rural Pennsylvania to Manhattan suburbia was difficult.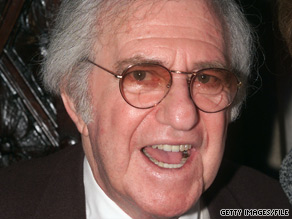 It took some time to get used to peers that dressed older than my friends in Gettysburg, as well as liberally using language that would warrant a spanking at home. I needed an escape from the transition, and I found it with Soupy Sales.
In the mid-1980s, Soupy hosted a radio show on WNBC-AM in New York.  Every weekday, Soupy and his cast would talk to guests, engage in comedic bits and take phone calls from listeners.
I remember every Tuesday being "Gripe Tuesday", with Soupy and company hearing from listeners about things they just had to gripe about.  My younger sister, who was nine at the time, once called Soupy to complain about the lack of things to do during spring break - he encouraged her to get friends together and write and draw their own stories or invent new games.
The noon hour was devoted to "Lunch With Soupy", where a guest would drop by to "dine" with the Soupman, take listener calls and participate in comedy bits with "Jerry the Waiter", a character based on Curly Howard of Three Stooges fame.   The interviews were always clean and non-confrontational - a nice change of pace to some of the alternatives that continue to flood the TV and radio airwaves.
Some critics contend that Soupy Sales wasn't a good fit for WNBC - for one, he was a visual comic performing for the ear.  So what if he couldn't throw pies on the radio?  He was funny, and he made me, my family and friends laugh.
Listening to Soupy also got me to find out more about the man.  When he was scheduled to appear on a game show or talk show, I made sure to watch it (or get my parents to record it).  While visiting what is now the Paley Center for Media to work on a college paper, I snuck in a little free time to watch some of Soupy's TV comedy work.  The man knew how to be funny to people of all ages - a craft that few of today's comics can say.
Thank you for the memories, Soupy, and thanks for making that Sparta transition easier to digest.
What are your favorite memories of Soupy Sales?