At long last, the top 20 have been chosen, and it's shaping up to be a memorable sixth season already: three tap dancers and a married couple, for starters. Before I get to the list, I have to note how disappointed I was to see twin Antwain, ballet dancer David and skilled technician Amber fail to make the cut. Even so, it's a strong top 20, especially among the men. Here's a quick look at who made it: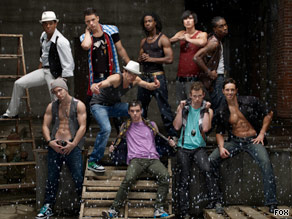 Nathan: After the then-17-year-old was given the chance to go straight through to Las Vegas last season, Nathan took advantage of the opportunity, and his fluid movements shouldn't be underestimated.
Kathryn: We haven't seen much of her dancing, and her propensity to turn on the waterworks could either endear or annoy the audience. A tough call so far.
Channing: Talented, good personality, but could easily get lost in the shuffle with the many other contemporary girls.
Ariana: Hasn't really left an impression so far (but then again, neither had winners Jeanine or Sabra at this point).
Ellenore: Quite possibly the quirkiest Vegas performance since Mark's "Bohemian Rhapsody" routine. She's definitely won some fans already.
Billy: I don't dare compare him to season two's Travis (yet), but Adam wasn't crying over his performance last week for nothing. Definitely a contender.
Russell: The first krumper to make the top 20, and this untrained dancer has already shown some moves in the other styles that blew me away. Shoo-in for the top ten, at least.
Kevin: He made it through after auditioning three seasons ago, but we saw very little of him Wednesday night, so it's hard to tell if he has the personality to take himself to the end.
Tappers Bianca, Phillip and Peter: Of these three, I prefer Phillip, though his attitude could be a problem for him. Bianca and Peter, on the other hand, have personality to spare (and we've seen precious little of Peter's dancing).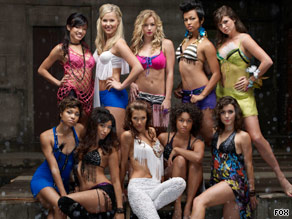 Victor: All we really know about him is that he cut his hair like Kupono.
Jakob: Ridiculously flexible contemporary dancer... and barely seen on Wednesday's show. Between him and Billy, I think one will go far and one will go early.
BFFs Mollee and Noelle: Oh, dear. No doubt Mollee dances immaturely (and acts it), but her personality took her right into the top 20, and that can take you ever farther in this show, so we'll see where she goes. Noelle hasn't made much of an impression beyond being at Mollee's side constantly.
Pauline: She made it through despite a major injury, and she definitely deserved it. Hard to tell how far she will get, however.
Legacy: We may have the most controversial dancer in this B-boy, who really impressed me in his audition but nearly fell short in Vegas. He could definitely rub some of the audience the wrong way as well.
Karen: Her husband didn't make it far enough in Vegas, but she got through. An extraordinary ballroom dancer, no doubt, but she may be forgotten because of...
Ashleigh and Ryan: My opinion of this married couple hasn't changed (he's great, she has potential but isn't there yet), and Ashleigh only got through because Paula turned the opportunity down. Ryan's another top 10 shoo-in.
We'll see if my predictions hold true as the real season starts next week. In the meantime, what do you think of this top 20? Who do you think has the best shot at winning it all?