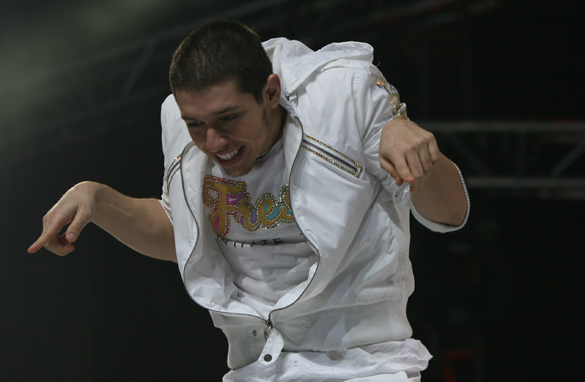 The top 12 dancers of season five entertained a revved-up crowd of thousands as the fourth "So You Think You Can Dance" tour made its way to Duluth, Georgia, on Tuesday night. This was my second time in a row seeing the live show, and from a technical standpoint, it definitely outdid the one last year.
As one might expect, there were many parents and teens in the crowd, to be sure, but a sizeable number of older fans turned out as well. The show, filled with favorite dances from the season, managed to deliver a few surprises.
The audience went wild for the cast, including winner Jeanine (who repeated her "solo tango," which may very well have been responsible for her win), and Broadway hoofer Evan. Pop-and-lock sensation Phillip and runner-up Brandon received standing ovations after two show-stopping solo routines. Brandon, especially, seemed to get emotional after such an ear-shattering reaction.
There is truly nothing like seeing these talented people do their stuff live. Brandon and Janette got things off to a rollicking start with their fast-paced disco routine, and of course Evan and Randi's "butt dance" was a crowd favorite. Two routines which I was pleasantly surprised to see, Wade Robson's "thieves" dance, and the group routine to "I Know You Want Me (Calle Ocho)" (quite possibly the best group dance in the show's history), were performed and the latter, especially brought the house down.
One thing I definitely did not see coming was a running gag about Jeanine and Phillip's ill-begotten Russian folk dance (the little comedy skits between routines were much-improved as well). This turned into a splendid group number set to a techno beat, performed just for this tour.
The show ended with a bang, as Jeanine and Brandon took the stage with their magnificent "Matrix"-inspired paso doble, but not before two which will most likely stand the test of time from season five: Jeanine and Jason's "necklace" routine and Kayla and Kupono's routine about addiction, which gave me chills seeing live. Choreographer Mia Michaels certainly left this show on a high note.
Sure, there were mediocre dances here and there ("Get Me to the Church on Time" didn't work for me, sorry), but if you're a fan of this show, you could do far worse than to catch "America's favorite dancers" when they come to your town - and if you missed them this time, the season six tour is right around the corner.