Full disclosure: I am not a " Star Trek" fan.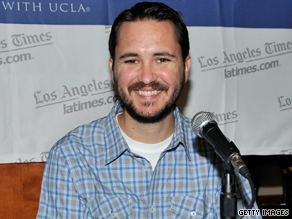 But even I have seen "Star Trek II: The Wrath of Khan" and that made Monday night's "Big Bang Theory" all the funnier to me.
Watching the character of Sheldon plot out and enact his revenge against guest star Wil Wheaton (playing a slightly devious version of himself) was hilarious. I remember Wheaton as young Wesley Crusher on "Star Trek: The Next Generation" and I imagined geeks everywhere were enraptured. (Editor's note: Given Crusher's wimpy reputation, maybe they were infuriated.)
I am a huge fan of this show and witnessing the usually unflappable and coldly rational Sheldon become positively unglued at the prospect of facing Wheaton – whose failure to show up at a Mississippi "Star Trek" convention in 1995 devastated a young Sheldon – had me howling with laughter.
When Sheldon stared daggers at Wheaton across the room during a card game competition and uttered a phrase which caused Wheaton to turn to his companion and ask "Did he just say 'revenge is a dish best served cold' in Klingon?" I was reminded of just how genius the show can be.
That plotline, coupled with great moments like the revelation that hottie neighbor Penny had a childhood crush on Ernie from "Sesame Street" ("The heart wants what it wants") along with Wolowitz's sort-of-kinda-new girlfriend, makes me want to say this was one of the show's best episodes ever.
What did you think? Are you loving this show as much as I am? Do you hope the producers bring Wheaton back, especially after his dirty trick of playing the "MeMaw" card?