Here's what's happening in the world of entertainment today:
After the music leaked online, Variety reports that the release of the highly-anticipated soundtrack to "Twilight" sequel "New Moon" has been moved up to today.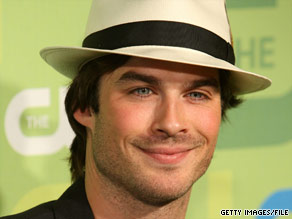 Will Ferrell is set to star in the independent film "Everything Must Go," which will start production in March, according to Variety. Ferrell will play a man forced to sell his possessions after being kicked out of his house by his wife with everything he owns on the front lawn.
People reports that Fred Durst has filed for divorce from wife Esther Nazaroy after three months of marriage. Durst tweeted, "We remain very positive and wish only the best for each other."
You can't see them at the upcoming Macy's Thanksgiving Day Parade, but look for the cast of "Glee" to perform the national anthem before game 3 of the World Series, according to The Los Angeles Times.
"Lost" and now "Vampire Diaries" star Ian Somerhalder is staying within the science fiction and fantasy genres: The Hollywood Reporter says that he will star in a Gothic fairy tale film called "Cradlewood."
EW.com is touting new details of Michael Jackson's final days: They spoke to "This Is It" choreographer Travis Payne who told them, "Michael would come in and say, 'I didn't sleep last night.' But then we'd be on set and you'd see he had his A-game, so you didn't really question it." The show's director told the magazine that they were "clueless" about any apparent drug abuse.
At the box office today: the film adaptation of children's literary classic "Where the Wild Things Are," "Law Abiding Citizen," starring Jamie Foxx and Gerard Butler, and psychological thriller "The Stepfather."