Having won the Emmy for Outstanding Comedy Series every season that it has been on, you would think "30 Rock" could afford to coast on its reputation. But from the very first scene, where Jack appears to welcome the viewing audience to "Season Four," the show continued to deliver rapid-fire laughs in its traditional style.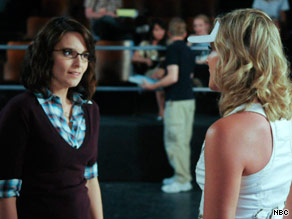 The comedic pairing of Jack and Kenneth has always been a winner (even more so than Tracy and Kenneth), and the season premiere was no exception. When Kenneth got a glimpse of Jack's big bonus after being told that NBC was out of money ("Bonus means extra. I know that. From game shows."), the network page became a most unlikely strike leader.
Being highly visible during the writer's strike of two years ago, Tina Fey seemed uniquely qualified to poke fun at them, as both Jenna and Tracy eventually joined the picketers: Tracy, after a hilarious search for his roots, which mostly consisted of him trying clumsily to connect with random passersby ("Hello, fellow human being. Would you like to ask me what time it is?"), and Jenna, after hearing of Liz and Pete's plan to hire a new cast member.
Speaking of Liz and Pete's storyline, that one seemed the weakest of the episode, as their attempts to hide what they were doing seemed more cliched than what this show usually does. I did like the line about picking up her nutritionist and elderly son, though. Jenna's plan to appeal more to middle America by going country while promoting NBC's tennis coverage, on the other hand, was one of the show's highlights.
I wasn't a fan of Steve Buscemi's first guest appearance as Len, but the character has grown on me since. His plan to infiltrate the striking pages led to some of the episode's funnier moments.
All in all, it was a solid return for the show, though it probably won't be remembered as one of the best episodes ever. I'm happy to hear that there will be less reliance on big-name guest stars this season, too, as the show is usually best when it's just the main cast doing what they do best (with the exceptions of Jon Hamm and Salma Hayek).
What did you think? Did the season premiere make you optimistic that this show's still got it? Or are its best days behind it?