Here's what's happening in the world of entertainment today: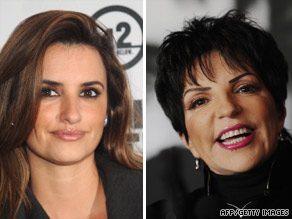 People reports that we're learning more details about the upcoming "Sex and the City" movie sequel. Penelope Cruz and Liza Minnelli are among the celebrities set to make cameos in the film.
Fox's animation block has been successful for a number of years, and it's looking to expand: Variety reports that an untitled show starring the voice of Jonah Hill, and another show based on the graphic novel series "The Bradleys" will soon join the ranks of "The Simpsons" and "Family Guy." This follows the success of spinoff "The Cleveland Show," which was recently picked up through 2011, according to The Los Angeles Times.
After yesterday's news on Matthew Perry's comedy being picked up by ABC, another "Friend" alum has big news: David Schwimmer will direct the dark drama "Trust," to star Clive Owen and Catherine Keener, according to Variety. The story centers around the damage inflicted on a family by an online sexual predator.
The Hollywood Reporter says that movie theater operators are angry at Paramount Pictures for scheduling the DVD releases of "G.I. Joe: The Rise of Cobra" and "The Goods: Live Hard, Sell Hard" for next month, less than three months after they were first released on the big screen. National Association of Theatre Owners President John Fithian calls their actions "highly objectionable," according to the paper.
They paid tribute to Patrick Swayze earlier in the season and now "Dancing with the Stars" plans a routine in memory of Michael Jackson on Tuesday, according to People.
The Los Angeles Times reports that producer Daniel Melnick died Tuesday at the age of 77. Melnick was best known for the classic movies "Network," "Kramer vs. Kramer," "All That Jazz," and the series "Get Smart."