As the Las Vegas callbacks continued last night on "So You Think You Can Dance," we said goodbye to a few more favorites from the auditions. At the same time, other dancers emerged with even more talent than one could tell judging from their original auditions.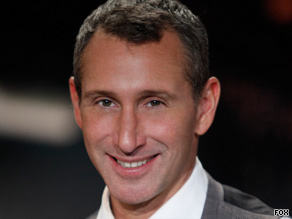 Russell Ferguson continues to have a great shot at the top 20. Nigel Lythgoe couldn't believe what he was seeing when Russell nailed Laurieann's steps. He double-checked to be sure, and Russell told him that he has had no formal training. This guy could definitely be the next (season four winner) Joshua. Russell has since sailed through into the final group prior to picking the top 20.
We spent a lot of time last night with contemporary dancer Molly Gray, who fought through a foot injury and was determined to keep going in the competition. She barely made it through some "dumb" (to quote Mia Michaels) group choreography, but despite Nigel's criticism that she is an immature dancer, she seems top 20-bound.
Meanwhile, season five hopeful Pauline Marta was back and seemed destined to make it through this year, when she was sidelined by yet another injury. I'm not sure how she has a chance of making it through on crutches, but stranger things have happened.
Another face from the past broke out as the callbacks continued: Kevin "K'Bez" Hunte, who was extremely close to making the top 20 in the third season, performed some of Mia's choreography, and she kept repeating, "I cannot get over his technique" as she watched him.
For over-the-top reactions from the judges, however, Adam Shankman had them all beat (Mary Murphy was strangely subdued, by the way). When contemporary dancer Billy Bell took the stage for his final solo in Vegas. Adam broke down into tears and was a complete mess while watching his soaring routine. The rest of the judges agreed, so he is probably the safest bet for the top 20 (second safest would be Ellenore Scott, whose quirky ballet routine charmed last week).
The tears continued throughout the new touchy-feely Mia's contemporary routine (funny, the tears over Mia usually take place at the end of the season), and B-boy Legacy, another I've been pulling for lately, got very emotional after he took his turn at performing it. Thankfully, the judges said he has grown as a dancer, and he will go through to vie for the top 20.
Also improving - in fact, the most improved according to Nigel - is Ashleigh DiLello, who finally emerged from her husband Ryan's shadow after performing a Tyce Diorio Broadway routine. When Ryan took his turn, however, it was once again clear that he would be a better fit for the top 20.
This time, next week the top 20 will be revealed. Personally, I was overjoyed to see that tap-dancer Bianca, who we only saw a few glimpses of last night, was still in the running. Who would you like to see there?