Here's what's going on in the world of entertainment today: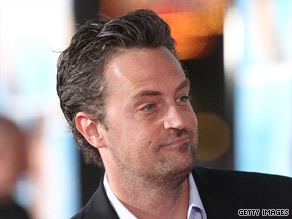 It didn't take long for ABC to snatch up Matthew Perry's upcoming comedy series, according to The Hollywood Reporter. That would potentially make him the second "Friends" alum on the network after Courteney Cox.
Chris Pine is looking to add a second iconic character to his resume. After his star-making turn in "Star Trek" as Captain Kirk, Variety reports that he is negotiating to play Jack Ryan in a new movie (or movies) based on the Tom Clancy novels.
The character has previously been played by Harrison Ford, Alec Baldwin and Ben Affleck.
There seems to be no love lost between Tracy Morgan and some of his fellow former "Saturday Night Live" cast members. EW.com takes a look at his upcoming book and reports that he has some pretty harsh (and profane) words for Chris Kattan and Cheri Oteri, essentially asking "Where are they now?" (Kattan has most recently been seen on the new ABC series "The Middle," Oteri had a regular voice role on the now-canceled Fox series "Sit Down, Shut Up.")
"Glee" creator Ryan Murphy responds to EW.com about a decision, reportedly at the request of NBC, to pull his show's cast from the Macy's Thanksgiving Day Parade: "I completely understand NBC's position and look forward to seeing a Jay Leno float."
The Washington Post reports that ratings for the DJ AM reality show "Gone Too Far" were only a fraction of those for MTV's hit series "The Hills" this time last year, leaving some to wonder if the show's remaining episodes will air as planned.
Tommy Lee Jones is in talks to direct and co-star in "The Lincoln Lawyer," with Matthew McConaughey, The Hollywood Reporter says. The title is quite literal, based on a book about a "wheeler-dealer" attorney whose office is his Lincoln car.
Singer Al Martino died on Tuesday at his home in Springfield, Pennsylvania, according to The Hollywood Reporter. He is best known as playing Johnny Fontane in "The Godfather." He was 82.