If Jeffrey Jacob Abrams isn't the hardest working man in showbiz, he certainly comes close. With numerous TV shows and films on his plate, it's a miracle he can think straight, much less squeeze in some quality face time with the press. I caught up with him recently at a "Star Trek" DVD press event, and he talked about how the sequel was slowly coming together.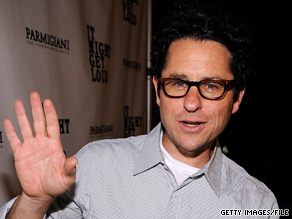 "We're just now starting talking about the second film. I will say that what we're discussing is all over the place because we don't want to rule anything out. The fun of taking something that is known and playing with it is undoubtedly appealing. The truth is, still, most people don't know the history of 'Star Trek', don't know the series. I didn't. I wasn't really a fan when I began working on the movie and I did my homework and I think the best version of a sequel will be a movie that won't require any knowledge whatsoever of what's come before. So it needs to work completely on its own terms.  It also needs to have nods for those fans so when they see it they go 'Oh my God, how cool is that, that they referenced that, or that that's there or he's there or she's there.'"
So we might see some other characters pop up from the series that we didn't before?
"A happy byproduct of our story is that they are now in sort of a parallel existence that allows for these people to cross paths with any of the stories and characters, places, that the first series introduced. It doesn't mean that we will necessarily be doing that again, but it feels like one of the benefits that would be silly not to  take advantage of to some degree. I don't want to say the sequel will be a reboot of an existing episode or series of episodes, but I think it is one of the tools in the tool box and it's something to really consider."
In addition to the slowly incubating "Star Trek" sequel, Abrams also has a new TV show to add to his frantic workload. NBC just bought the pilot for his new spy show.
"It was interesting because we didn't know if it was going to work when we were writing it, because this couple is in love and usually I have written characters that, you know, 'when will they,' 'how will they get together.' Or couples that it's like, you know, they're ripped apart by something.  To write a couple that's simply in love where they adore each other, they fight, they have issues but it never rocks the foundation of who they are, we've never done that before.  So it was hugely, weirdly, refreshing to write something where the main characters had a really good relationship. Like, it's so funny that, at least in my experience hasn't happened very often. So it was nice to able to write that. We're very excited about the show."
So how does he find the time to work on all these projects?
"It's certainly not just me out there. It's these people, these filmmakers, storytellers, executives who I work with. All of us together are sort of this weird little geeky army trying to entertain people."