The big wedding episode is hardly a new idea in TV history (see "Cheers," "Friends" and any number of soaps), but as it has for the past five years, "The Office" marched to its own drummer in last night's episode about the long-awaited wedding of Jim and Pam.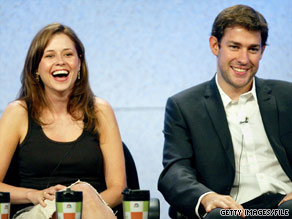 In what will go down as one of the best episodes of the series' history, all of the couple's co-workers followed them to Niagara Falls to see them get married, despite all of their best efforts.
All of the hallmarks of the series so far were present, especially the highly-awkward-scene-which-Michael-proceeds-to-make-worse, this time coming in the form of Jim's slip-up which forced him to tell Pam's conservative grandmother about her pregnancy in front of the rehearsal dinner party. Michael, of course, thought he would come in for the save, instead making the revelation a million times worse by explaining in excruciating detail how such a surprise pregnancy might have happened.
Another thing this show does well is pairing up characters in new and surprising ways. I loved the way that Oscar and Kevin played off each other, and the fact that Pam was forced to take Andy to the emergency room after a split attempt gone horribly awry, forcing him to sleep on the floor of her hotel room on the night before her wedding.
Finally, there was the wedding itself. I think that we may not have seen the last of Pam's mother, who made a connection with Michael just before the wedding took place.
After all the madness, the couple ran off together - just the latest example of how this relationship has been handled in unexpected ways. Jim and Pam actually got married on a boat near the Falls themselves, then returned to the guests re-creating the famous YouTube "Forever" wedding dance.
That scene, as well as Jim's toast at the rehearsal dinner, were two remarkably sweet moments, which this show does better than any other. One thing that's easy to forget is that, when it comes down to it, "The Office" is a show with a lot of heart, and there was no better example than this episode.
What did you think of the episode? Did it live up to the hype?