It was a brutal beginning to the Las Vegas callbacks last night on "So You Think You Can Dance," as many a favorite from the auditions were sent packing, cutting 152 dancers down to 77 by the end of the show.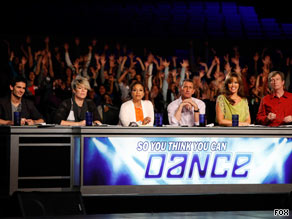 Thomas Hamilton, who had one of the more memorable stories - wanting to find a better life outside his small hometown of Scottsdale, Georgia - was one of the first to get cut after forgetting his routine. In desperation, he proceeded to climb up some metal bars on the side of the stage. We didn't have to hear it from executive producer/judge Nigel Lythgoe to know he was on his way out.
Partners Willem DeVries and Jacob Jason were also split up by the end of the first day in Vegas, with Willem having to go it alone. After one day, 41 dancers were already out of the competition.
Hip-hop choreographers Tabitha and Napoleon taught the dancers a routine but some who showed promise early on struggled to follow it. B-boy Jean Lloret, who prompted screams of amazement from the judges in Boston, just couldn't keep up with choreography and was soon sent home. The sister of season five's Caitlin, Megan, also got cut, something many viewers probably didn't catch thanks to rapid-fire editing.
Billy Bell took an unfortunate elbow to the nose while practicing his routine and missed crucial rehearsal time while recovering offstage. Thanks to a quick cramming session from his partner, however, he made it through to the next round. Not so lucky, however, were Teddy Tedholm, best known for his outrageous pants, "New Orleans bouncer" Shelby "Skip" Skipper and John Litzler who failed to survive a "dance-for-your-life" solo.
Finally, there was the unkindest cut of all, Ryan Kasprzak, whose tap-dancing and choreography skills earned him (and his brother, Evan) a big fan-base over the last couple of seasons. He showed early signs of struggling through the hip-hop routine and Nigel theorized that he hadn't kept up with rehearsing over the months that his brother was on the show. Sadly, he wasn't much better at picking up the ballroom choreography, and with a heavy heart, the judges said goodbye to him.
It's going to be tough going through a Kasprzak-less season six, but I still have hope that a tapper might make it through to the top 20, plus contemporary dancer Nathan Trasoras, married ballroom dancers Ryan and Ashleigh Di Lello, and humorous ballet dancer Ellenore Scott all still appear to be in the running.
Were you heartbroken to see Ryan get eliminated, or have you had enough Kasprzak for one season? Who are you looking for to make the top 20?