As if season six of "So You Think You Can Dance" wasn't looking promising enough, the judges were wowed by what they saw when they swung by Salt Lake City, Utah, on last night's episode.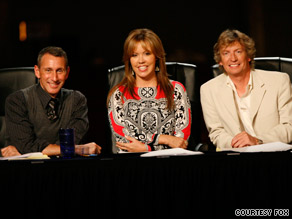 Salt Lake has been home to quite a few contenders in the past, like Chelsie Hightower and Brandon Bryant, and there were many candidates there with a good shot at making it to the top 20 this time as well.
After being heartbroken to see B-boy Micah Mixon sent home from the New Orleans auditions last week, I had high hopes for Bryan Boyer, whose jaw-dropping power moves and floor work made him one of the strongest hip-hop dancers to audition for the show, as judges Nigel Lythgoe and Mia Michaels pointed out before sending him on to the choreography round.
However, Micah just couldn't pick up the choreography and sadly called it quits before he had a chance to perform it for the judges. Hopefully, this won't be the last we see of him.
Bouncing back from a major injury, the "strong, uninhibited" (in judge Mary Murphy's words) contemporary dancer Hayley Cloud showed that she could very well be a front-runner this season, getting a direct ticket to the Las Vegas call-backs.
Anyone who recalls season five's auditions will remember sisters Caitlin and Megan Kinney. Caitlin made it to the top 20, but Megan didn't. Megan returned and really went for it in her Salt Lake City audition, getting another shot in Vegas.
It turns out that great ballroom dancers practically grow on trees in Salt Lake City. Lithuanian immigrant Iveta Lukosiute was the first of several to show off her scorching moves onstage there. I can't remember the last time I'd seen anyone audition doing the rumba, a pretty bold choice which paid off big-time. As Mary said, she had "hot tamale written all over her."
Another potential member of the "hot tamale train" was Leigh Asay, who unfortunately ripped off her toenail(!) while auditioning with Josh Murillo. However, the judges sent her to Vegas - with a quick stop at the emergency room first.
And we're off to Vegas next! Which auditions stood out to you the most this season? Any auditions you could have gone without seeing (burlesque dancer Ariana Rowley, spastic Pascal Nayigiziki, and unlucky car passenger Tristy Merci, perhap?) And who are you pulling for most tonight as Vegas week begins?