Tom DeLay isn't exactly a celebrity outside political circles, but he was probably the most talked-about cast member of this season's "Dancing With the Stars."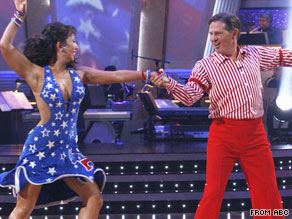 (As in "Tom DeLay is going to do what?")
Last night, the former House Majority Leader pulled out of the competition, saying he wouldn't be able to continue because of painful stress fractures in both of his feet.
But DeLay wasn't voted out of the show - in fact he wasn't even in the bottom two and he actually turned out to be a decent dancer.
OK, the strange, strange sight of him gyrating to "Wild Thing" a couple of weeks back was a cringe-worthy moment - and we could have been spared the camera close-up that began that particular dance number - but DeLay seemed to get into the spirit of things.
His tango was quite good, except a stumble at the end which had him wincing in pain. And who else could have danced a politically inspired samba?
Despite DeLay's decision to leave, the show continued the elimination last night and it turned out to be the end of the competition for actress Debi Mazar and her professional dancing partner Maksim Chmerkovskiy, who were voted off the show. (Not a complete surprise, but it seemed like they might last another episode.)