Trivia question of the day: What do ex-presidential candidate Ron Paul, Arizona Cardinals quarterback Kurt Warner, Academy Award-winning actress Helen Mirren, a grown-up "Ralphie" from "A Christmas Story" and "Karate Kid" Ralph Macchio all have in common?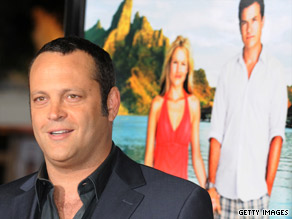 Answer: They all attended the "Couples Retreat" premiere in L.A. Monday night. Talk about your eclectic bunch of celebs. Sometimes it happens. A strange constellation of stars forms at a Hollywood event and you shake your head and say, WHAT IS GOING ON HERE?
Sometimes it's cool, other times it's just sad. Like the time I covered a red carpet gala that saw both a tipsy Erin Moran from "Happy Days" and Elvis' hairdresser (don't ask me what he was doing there, but he had his own publicist) working the press line. And those were the "A-listers" of the evening! We still have a good laugh about that one here in the office.
At any rate, the "Couples Retreat" cast were a good-natured bunch, and in star Vince Vaughn's case, relentlessly on message. I think before he hit the red carpet his publicist must have told him, "Okay, Vince make sure you hit hard on the fact that audiences will really relate to this film." But don't take my word for it. Count how many times below he uses the word "relatable."
"It was fun to take a bunch of relatable people who would never get a chance to go to a place like Bora Bora and have relatable issues, that go on in all relationships. And audiences have responded really well to the film which is always nice because they can see themselves within the dynamic of what's going on. So I just thought it would be fun to take relatable things in a relationship and have a really funny way of investigating those things...  I think 'Swingers' is very relatable. It's about a friend helping another friend through a bad break up, and he's trying to meet girls and he's really not used to doing that sort of thing and I think in this movie what's relatable is catching a group of people at different stages of their marriages and I think it's very real and in a funny way how they deal with those issues. So I think what people are connecting to are issues that are very relatable."
Dude, I can totally relate.