You don't have to be a quirky, unique voice in your field to make a difference, but it doesn't seem to hurt.  Moby, the techno artist who appears to have at least as many foes as fans, is donating all revenue from his three upcoming California shows to domestic violence shelters in the state.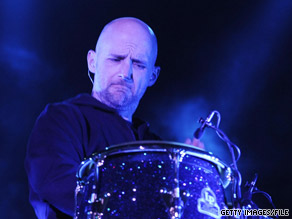 All state funding for such services was eliminated in the latest budget bloodbath, and dozens of shelters have had to close or cut back services and staff.  Moby says he hopes his shows October 12 in San Diego, October 14 in Los Angeles, and October 15 in San Francisco can raise as much as $100,000 for the California Partnership to End Domestic Violence.
Dave Eggers is also putting his artistic earnings toward a good cause.  The author of "A Heartbreaking Work of Staggering Genius" also penned the 2006 novel "What Is The What," a novelized biography of Valentino Achak Deng, one of "The Lost Boys" of Sudan. Fittingly, all proceeds from book sales are going to aid the Sudanese community, in the U.S. and in Africa.
I'm curious: would you be more likely - or less, or would it matter - to buy a book, attend a concert, or otherwise pay for entertainment if you knew the money was going to a certain cause?  Would it matter whether you agreed with the cause or not, whether it was local or national or international?  As you took the time to read a blog entry about charitable work (and, I would hope, other entries in our Find The Good series), your replies may not be representative of the public at large, but I'm still interested in what you think.
And while I'm addressing you directly, a mea culpa.  Several posters took issue with the writing style on my last entry.  That stung a bit, as I take a good deal of pride in my prose.  So I went back and looked at it... and they were right.  I rushed it.  The entry could have, and should have, been longer, more detailed, and much more smoothly composed.  Both you and the causes I spotlight here deserve better, and I'll try harder to live up to that standard.