The celebrities on "Dancing With the Stars" try to do lots of things to stand out from the other couples in the competition, but this might be a first: Trying to make out with a judge.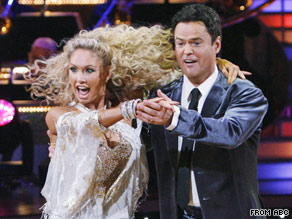 This unusual maneuver came courtesy of Donny Osmond last night after dancing the rumba.
Earlier in the show, the judges acknowledged the dance is particularly hard for the male celebrities on the show because they have to walk a fine line between conveying romance and appearing too soft on the dance floor.
Judge Bruno Tonioli apparently thought Osmond's performance was too much of the latter and said it had "a bit of 'Swan Lake' " in it. Which is when Osmond playfully lunged at the judges' desk and tried to kiss Tonioli.
It took a while for everyone to recover, but the show's next highlight belonged to former House Majority Leader Tom DeLay, who appeared on the verge of pulling out of the competition due to injuries. He revealed he now has stress fractures in both feet and that his doctor and the show's producers urged him to withdraw.
But not so fast.
"What's a little pain when you can party?" DeLay said before dancing a decent samba that was favorably reviewed by the judges.
Finally, a surprising standout couple last night was professional snowboarder Louie Vito and his dance partner Chelsie Hightower. Their romantic rumba prompted Tonioli to exclaim, "That's chemistry."
Who do you think will be voted off tonight?