Nineteen years ago, C. Montgomery Burns failed in his bid to become governor of whatever state Springfield is in.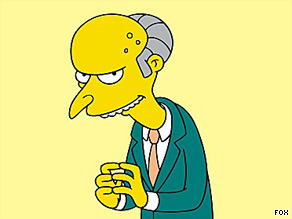 Now, the centenarian nuclear power plant owner is throwing his hat into the ring in the race for mayor of New York City.
Of course, Mr. Burns is a fictional character who exists only in the world of "The Simpsons."  Besides, he'd just let his lackey, Wayland Smithers, throw the hat for him.
The "Burns for Mayor" campaign is the brainchild of two New York artists, who say they are poking fun at an election where billionaire incumbent Michael Bloomberg is expected to easily win a third term in office. 
The official Web site for the Burns campaign lists several of the candidate's promises, including selling Staten Island to raise revenue, building a nuclear power plant in Williamsburg and enforcing an "anti-hipster" policy throughout the city.
At least Burns seems to have a campaign platform.  In "Two Cars in Every Garage and Three Eyes on Every Fish," the "Simpsons" episode about his early political dreams, Burns runs for governor to save his beloved nuclear plant, which was found to have 342 violations by a government inspection committee.
The inspection was ordered after Bart caught a three-eyed fish, nicknamed "Blinky" by the Springfield media, near the nuclear plant.  Burns argues that the fish is actually some kind of "super fish" and, in one commercial, brings out an actor playing Charles Darwin to claim that Blinky is an example of natural selection.
The move seems to pay off, and Burns vaults from 0 percent popularity to tying incumbent Mary Bailey in the polls. But his advisers suggest that having dinner with a typical American family the night before the election will give him the win.
Burns goes to the Simpsons home, where he is served Blinky for dinner.  Burns spits out a chunk of the fish, ending his chance at higher office.
Perhaps Burns and his new advisers have learned from the mistakes of his last run.  His campaign Web site suggests he's less Charles Foster Kane and more Michael Bloomberg with a Ross Perot attitude.  He seems to be more than a one issue candidate.  Alas, it appears that he won't be on the ballot in November, and a write-in campaign will be a definite long-shot.  Maybe in another four years.
So what do you think about the mayoral campaign of C. Montgomery Burns?  And what fictional characters would you like to see run for political office in real life?