This season, we've shared a lot together. We've loved Ari, we've kinda liked Turtle and we've flat-out hated Ashley. We've spoken directly to the TV (I know I have - don't judge), we've wondered if the show has lost its mojo, if its jumped the shark, and/or if "Entourage" had sold itself out for the sake of running short on its own material. But now, we are at the end.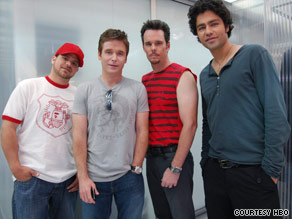 Let me say, for all the many good/bad/love/hate moments in this season, I believe we've seen a fitting conclusion. The final show was chock full of "Entourage" signatures, with a few new wrinkles in our boys' situations.
First, Turtle's abrupt end to our fantasy  - his relationship with Jamie Lynn Sigler - was jarring. I adapted thanks to Brooke (hot chicks always help, right?) but then the kid has a meltdown and I suffer a big let-down. Come on Turtle, why can't I have the rest of that scene? It was going so well! As a result, both Brooke - in her dorm room - and me - on my couch as I watched - had the rug snatched from under us as Turtle just couldn't get over Jamie-Lynn. Fine, we'll deal with it.
Meanwhile, Ari gave a scintillating sermon on exactly why the takeover was going to be his crowning achievement. In one eloquent, fell swoop, Ari verbally processed his intent with passion and sheer contempt. This speech in a word? Let's say: enthralling. It was a fist-pumper and I did just that by the time Ari was done.
We also got to see another side of Drama in the show. I thought it was really endearing to see Drama lay down his cracked shell, reveal his inherent vulnerability and subsequently kill it in his audition. We root for him because he never gives up, but Drama never quite gets it right either. I loved Drama's laughable line re: the insistent Matt Damon..."Sorry bro, he Jason Bourne'd me!"
If this episode missed a step at all, color me the Russian judge to deduct points for that "Matt Damon aggression in the name of his charity" concept. It all felt like a square peg forced into a circular hole as Damon, Bono, (and later) Lebron James were "thrown" into the episode for cameo's sake. Fellas listen: I'm a huge fan of the three of you. You guys make great movies, music and last-second shots to win NBA games, but you have to understand one thing: you just weren't "needed" in this episode.
Speaking of needs, please ask me if I needed Sloan back on a regular basis. The answer is "si", "oui", and "yes" - I absolutely did. But, I'm not sure I needed Eric to go THAT far to keep her around. Was it admirable? Certainly. But will the "gi-normous" lock-down move he made seismically shift things for the group in upcoming shows? We shall see.
Summing it up, this final episode was delightful and I enjoyed it. It may sound cliche', but the best was indeed saved for last. The creators of the show gave us more than enough to come back for more and look forward to a seventh season. Shall I return for more "Entourage" blogs? The answer is "si", "oui" and "yes" I will, and I hope you will too.
Loved, kinda liked, or hated the finale? Let us know!