My name is James, and I'm a game show junkie. I've appeared on three game shows (and counting), and I've auditioned for at least a dozen more.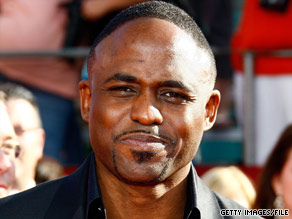 My mother once joked that my first complete sentence was "I'll take George Gobel to block."
I spent many childhood summers watching the daytime network game shows that filled my brain with knowledge, luck and skill.  I thought of emcees like Dick Clark and Peter Tomarken as Santa Clauses for adults - stuffing their stockings with cash and fabulous prizes.
Those days are pretty much long gone.  Outside of "The Price of Right" on CBS, the networks gave up on game shows as a daytime programming strategy years ago.  NBC's last effort was "Caesar's Challenge" in 1994, while  an early 90s revival of "Match Game" was ABC's final attempt at daytime games.
But could CBS be turning the tide when it comes to the genre?
CBS is replacing its long-running soap "Guiding Light" with a revival of the classic game show "Let's Make a Deal."  You may remember that show - host Monty Hall offering trades and making deals to costumed contestants.  Some trades could be successful (cars, trips, cash), while others end in failure (the dreaded "Zonk" - usually gag prizes of little value).
The costumed contestants are back for the revived "Deal", but the new "big dealer" is entertainer Wayne Brady (Hall, now 88, is a consultant for this version).  In addition, the new "Deal" is taping at the Tropicana Hotel in Las Vegas, making the show an intriguing attraction for tourists on a budget and looking for a different game of chance.
With daytime soaps on the decline across the board, there's no doubt that CBS and the other networks are looking at "Deal" as a possible sign of things to come.  If "Deal" can match or succeed what "Guiding Light" did in the ratings, the networks could turn to other lower-cost game shows as an alternative to more expensive sudsers.
Will you be watching the new "Let's Make a Deal" when it premieres on October 5?  And what classic game shows would you like to see the networks revive?