Somewhere, someone has got to be starting a petition to land Kristin Chenoweth a permanent spot on "Glee."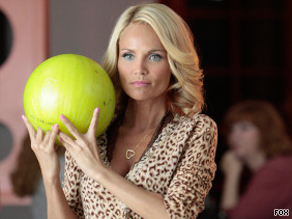 Her guest starring turn as the boozy, former show choir member April Rhodes whom teacher Will Schuester (played by Matthew Morrison) recruits as a ringer for his high school glee club came close to sheer perfection.
The character of April was delicious for so many reasons, not least of which is the revenge fantasy that many of us have, in which the super-hot girl in high school who seems to be able to do everything well grows up to become a hot mess.
Chenoweth – who has been a darling of Broadway lovers for years, and who recently won an Emmy for her role on the now canceled ABC dramedy "Pushing Daisies" – seemed perfectly at home on the quirky show that is "Glee."
Her portrayal of April managed to come across as both endearing and tragic.  But what Chenoweth does best is sing, and her performance of "Maybe This Time" from "Cabaret" - which she sang in "battle" form with student Rachel Berry (played by another Broadway veteran, Lea Michele) - had me mesmerized.
I would love to see more of April roaming the halls of McKinley High - and we know from Chenoweth's Emmy speech that she is looking for work.
So, what do you think? Would Chenoweth make a good addition to the cast?