"So You Think You Can Dance" went down south for the fourth set of auditions this season, and after one of the first hopefuls, Billy Bell, showed some of the best leg extensions any guy has had on this show, things soon started souring in Atlanta, Georgia.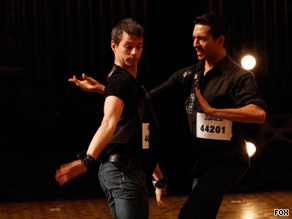 First, Amber Jackson, an extremely talented dancer, didn't have much to show the judges in the way of performance and Nigel Lythgoe and company let her have it, describing her performance with a word that tends to be frowned upon by network TV censors (she did, however, get sent to Las Vegas after getting to the choreography round). After that, one dancer after another got a tongue-lashing from Nigel, who really seemed to be having a rotten day.
Their mood was brightened somewhat by two of my favorites from the season four auditions. Twins Anthony and Antwain Hart showed up towards the end of the day and their synchronized hip-hop routine once again won raves from the judges. When it came to choreography, however, Antwain just couldn't pick it up, so I'll have to pull for Anthony alone during Vegas week.
Day two kicked off with ladies' man "Boogie Links," master of pop-and-lock "joint-tortionism," as Lythgoe put it. He definitely has personality to spare, and as we've seen that can get you a long way on this show. However, he didn't make it past choreography this go-round.
The judges were in awe of Jessica Jensen who lost her hand to cancer. Her luminous performance, which especially inspired the famously-verbose Lil' C, got her through to choreography, but sadly, she wasn't able to pick it up and was invited to come back next year.
The final audition in Atlanta was certainly one of the most incredible we've seen this season: Thomas Hamilton, who was taught to love contemporary dance by choreographer Mia Michaels, was powerful, emotional and uplifting. And once we saw a glimpse of how he handled the salsa choreography, I was sold. This guy needs to be in the top 20.
Tomorrow, my colleague Debra Alban recaps the New Orleans auditions. In the meantime, tell us what you thought of the talent in Atlanta. Were you as floored as I was by Thomas? Heartbroken that only one of the Hart twins went through? Do you want to see "Boogie Links" or Jessica Jensen try out again next year?