Adam Lambert's fans made him last season's "American Idol" runner-up - now they've answered his call to help struggling schools.  The singer's online fan groups competed to see who could raise the most money for DonorsChoose.org, which lets people give money directly to classroom project requests submitted by teachers around the U.S.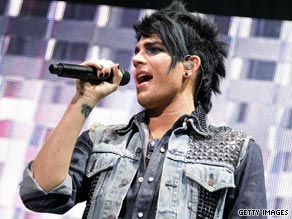 The month-long challenge raised $229,000 for arts- and music-related learning resources and supplies, benefiting nearly 88,000 students - many in high-poverty schools.
According to DonorsChoose, U.S. school teachers spend $1 billion out of their own pockets each year, trying to make up for seemingly endless cuts to school budgets.  The Web site, founded in 2000, allows teachers to describe specific projects for their students; donors can then select which projects to support, either in part or in full. YouTube: Lambert thanks his fans
So far, 109,000 public and charter school teachers have used the site to obtain $38 million for books, supplies, technology, and other learning resources, helping some 2.5 million students.  The Lambert competition is over, but fans can still donate in his name at DonorsChoose.org/AdamLambert.  And whether you donate in his name, or on your own, I can tell you: the photos and thank-you notes you'll get from the kids you help make it even more rewarding.