I thought I was done with the Gosselin posts - really, I did. I was done being frustrated; done trying to figure out what was going on; done trying to offer advice; done trying to just "get it"; just done. But I need to get a few things off of my chest; share a few thoughts with my blog readers who I know share these frustrations with me.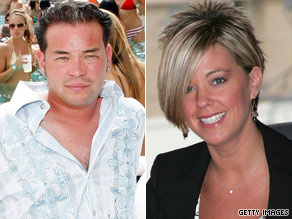 Let's start with Jon since he seems to be making all of the headlines the past few days—or the past few months I suppose. Jon, I have run out of cliché's to throw at you. 'Enough is enough'; 'stop the madness'; 'get it together'; I just don't have words for you anymore - and as all of you readers can attest to, that is a problem I seldom have.
I personally think that Jon getting dropped from "Jon and Kate Plus 8"was his plan all along. He never liked being on the show and as much as he protests, I feel that it contributed to the decline of his marriage. I also think that it is a calculated move for him to have halted his divorce proceedings; he has to have some ulterior motive, whether it be for press, public perception or something else, I haven't quite put my finger on it yet.
Let's be honest here folks - there is no way that he thinks he is going to reconcile with Kate. This is the guy that told ABC's Chris Cuomo a few weeks ago that he "despised" Kate, so I am pretty sure that all hope of another vow renewal is all for naught.
Alright Kate, it's your turn. Let's not pretend that you aren't coming out of this smelling like roses. You have a great PR team - good job on that one. Here's the thing though, all of the PR in the world can't hide the fact that you aren't without blame here. You bear some responsibility - and I am not just talking about your constant verbal abuse of Jon.
Do you really think that it was a good idea, while your marriage was in the midst of crumbling, to continue your book tour? I know that it's always been about building the "Gosselin" brand but talk about bad timing! You had plenty of cash coming in, money certainly wasn't an issue; perhaps that time would have been better spent at home with your husband and children.
So you managed to get yourself some great press - you've made the talk show rounds, going everywhere from "The View" to our very own "Larry King Live". Now that you are on the winning side of the PR battle - how does it feel? Was it everything you hoped for? Tell me Kate, have you seen what some of the tabloids are saying lately about the father of your children? You are a smart woman Kate, and clearly a savvy business woman - take a look and then you tell me if you think all press is good press.
Jon and Kate, you have made a mockery of your family. Parents are supposed to set examples for their children to look up to and emulate; look in the mirror - is this the example you want to be setting?