Hi Marquee Blog readers–ready for part two of my True Blood HBO Emmy After Party Special? Well here you go—an exclusive tidbit about the new season from Stephen Moyer.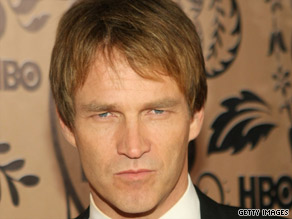 When I asked Stephen about working with Anna Paquin, his real life fiancée, he told me how much he loves getting to spend all of that extra time with her, but warned that it might not last for long.
 "I love working with Anna–I don't think we will be working together this season only because it's very hard to make Bill and Sookie the couple just be Bill and Sookie the couple. Nobody wants to watch that forever–every single drama you've ever watched has that thing where now you've watched and now let's put him over there and see how he works with her and how she works with him…so we'll see!"
Uh-oh, sounds like there may be some trouble in Bill and Sookie paradise next season! What do you guys think? Do you agree with Stephen? Would you like to see Bill and Sookie paired with other people next season?
I can't wait to read what you think!