Here's what's happening in the world of entertainment today: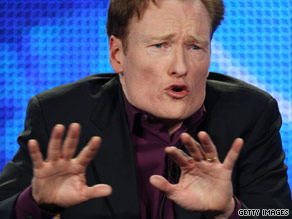 Conan O'Brien is expected back at "The Tonight Show" this evening after a head injury on Friday, according to Variety. NBC says he hit his head while performing a stunt, causing Friday's planned show to be replaced by a rerun.
EW.com has the story about "Saturday Night Live" newcomer Jenny Slate's accidental F-bomb about 70 minutes into the season premiere on Saturday.
Her first big sketch used the term "frickin'" a lot, and unfortunately, she slipped up. The look on her face afterward said it all. This is not the first time that the word in question has been used on the show. Other offenders include Paul Shaffer, Charles Rocket and Norm MacDonald.
"The Beautiful Life: TBL" is the first casualty of the new fall season. The CW pulled the plug on the series after two episodes, The Los Angeles Times reports.
The drama, starring Mischa Barton, dealt with the trials and tribulations of young models in New York, and was produced by Ashton Kutcher. Meanwhile, over at A&E, "The Cleaner," starring Benjamin Bratt, has also been canceled, according to The Hollywood Reporter.
"American Idol's" Justin Guarini got hitched over the weekend, People reports. The season one runner-up married Reina Capodici, whom he first met in junior high school, on Saturday in Pennsylvania.