The sixth season of Entourage is winding down, and its been a wild ride with some interesting peaks and alleys. With 11 episodes down and one to go, the pedal has been firmly placed to the metal.
This week's episode got started with a very "UN-Eric" kind of occurrence: An all-out, wide-open PDA (read: public display of affection) as Vince and Drama walked up.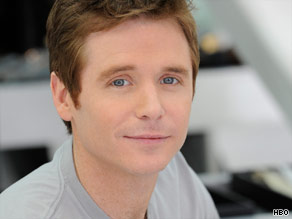 Eric? E? Seriously? No way, it cant be!
Well, it was, and like any event in E's dating life, it just couldn't be that simple either. The lip-locked lady in question turned out to be an old acquaintance of Drama's, and bedlam ensues upon discovery of the goods being previously damaged (in more ways than one). E's look of contempt for Drama, mixed with his genuine concern for his health was both entertaining and profound.
More on this: E's love life continues to be a "young and the restless" series unto itself. Its often loathesome and uncomfortable, yet compelling. Huh? Don't ask me why, but you really never have any idea what will happen next. Maybe that's it.
Meanwhile, as Terrance McQuewick made a return, chalk up yet another standout performance for Jeremy Piven, as the best of Ari is always brought forth when things move furiously around him. In this episode, they did just that.
Another highlight was Jamie-Lynn Sigler's insecurity about leaving Turtle. First of all, the fact that "Med Soprano" is all "verklempt" at the thought of being away from our boy is a Super Bowl victory for every regular guy across this great land of ours. The airport scene was terrific and Turtle's eyes welling up as Jamie Lynn walked away was well done and OK with me. He gets a pass.
Elsewhere, Drama's meltdown and "whatever condition" the doctor diagnosed him with translated in my head to "Johnny Chase is freaking out". I neither cared nor really laughed at all on that one.
Also, has anyone noticed that Vince has a strange sort of streak going? His "gratuitous sex cutaway" count now stands at about four or five this season. While I cannot confirm the approximate number since my DVR is dumped regularly, this matter requires further research.
Now, don't get me wrong, our Entourage fandom was built upon these sorts of "items" being thrown into really good storylines about the crew from Queens in the show's humble beginnings. Nowadays though, it really seems as if Vince has been relegated to less meaningful dialogue for extended stretches.
From what I can see, I guess we'll have to remember that we're being drawn closer to the other characters, and for now – that's all Vince is getting.
Overall, this was an enjoyable episode with great music cues as usual. I could write an entire blog on the fantastic music used in the show. There have been many signature moments through the six seasons, and the tunes chosen are fantastic matches for the mood and delivery of the scenes.
So, its official: I'm excited for next week's finale. However, i seriously doubt it will be another "Ashley-free" version. She's coming back with a vengeance. Mark it down.
Loved, kinda liked, or hated this week's show? Let us know!