Here's what's happening in the world of entertainment today:
Stars of two TV dramas are saying good-bye: Vincent D'Onofrio, Kathryn Erbe, and Eric Bogosian are all leaving "Law & Order: Criminal Intent," according to The Hollywood Reporter. Jeff Goldblum, who joined the show last season, will be the show's new lead detective. D'Onofrio and Erbe were original cast members.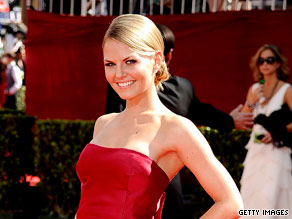 Meanwhile, EW.com reported yesterday that Jennifer Morrison is leaving "House" after being on the show from the beginning. Executive producer Katie Jacobs spoke to TV Guide, who would only describe it as a leave of absence, so we may not have seen the last of her character, Cameron.
Uber-producer Jerry Bruckheimer's latest TV project is a pilot for ABC called "Hopscotch," a police drama, Variety reports.
ABC's attempt at building up a new Wednesday night comedy block appears to have succeeded thus far. Ratings for the premieres of "Modern Family" and "Cougar Town" were impressive, according to Variety.
In theaters today: sci-fi thriller "Surrogates," starring Bruce Willis; the remake of "Fame;" "Pandorum," with Dennis Quaid; and Michael Moore's "Capitalism: A Love Story" (New York and Los Angeles only for now).