"Entourage" fans... how does it feel? I feel great, and you should too. After all, we are officially "Ashley-free"! This blog should be a celebration!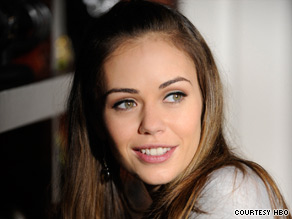 After a season full of lows and "lowers", I watched the latest episode of "Entourage" with a strange euphoria. This bowl of euphoria simmered, it boiled, and it runneth over into E breaking up with the girl we love to hate. That's right people, Ashley's "outta here"! Celebrate good times, come on!
I'm feeling so "Kool and the Gang" about this. I'm giddy to think the season's two remaining episodes should be (as my french friends from France would say) "sans Ashley". It was wonderful to watch Ashley's gradual spiral into panic once she realized she couldn't control Eric anymore, and then witness her ultimate melt-down as E said "buh-bye". I even wondered aloud, "I think this is happening. I think E's gonna do it!"
The breakup was pretty beautiful and pretty ugly. As I pumped my fist for E's beautiful moment of liberation, there was the not-so-pretty reality of exactly how short of a full deck Ashley is playing with. Fans, I can promise you this: she won't go quietly and she's got some crazy left up her sleeve.
My prediction? Pain and embarrassment. Ashley WILL pull a foolish act of biblical proportion. However, it will guarantee that Eric swears himself off this girl we've been dying to see get voted off the island. After this, he won't touch her with a laser pointer through tempered glass.
Footnote to the guys: If you're trying to figure out how to break up with that overbearing "chick du-jour", take a page from E's classic walk-away. His demeanor was textbook. He stated the facts, never sank to Ashley's level of "nutty" and made his exit with head held high. Then, he returns the hot assistant's call (with her hot friends) for drinks afterward. Cue the slow crawl of a tear down my cheek. Brilliant.
Elsewhere, the Ari versus Lloyd battle turned ugly also. In his quest to make Lloyd's new life a living hell, the situation turned into an all-out war for Drama. I thought Lloyd's ability to be endearing and true was the difference. Combine that with Ari's inability to do the same and that was pivotal for Drama. He made the right choice to stay with Lloyd.
Summing it all up, Lloyd's exclamation as he won the right to represent Drama speaks for all of us when it comes to Ashley's run coming to an end: "Yippee-ki-yay!"
Fans, we've got a bonus for you this week. Jordan Belfi (aka Adam Davies) talked with us about his thoughts on the show, his character and gives us some inside scoop. You can check out the Jordan Belfi interview here.
Loved, kinda liked or hated this week's episode? Let us know.