Talk about a hairy situation.
During Larry King's interview with Tyra Banks, he picked up a few tips and tricks from the supermodel and television show host.  Banks, who admits she's "worn fake hair since [she] was 17 years old," recently declared September 8th "National Real Hair Day."  She told King that she "did it because I feel like I have a responsibility. There's so many young girls that come up to me and say, 'Tyra! I want to look just like you,' and I don't look like me, you know?"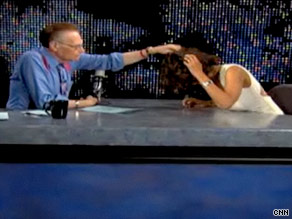 This is where it gets kinky.
KING: This – is this real?
BANKS: Yes. This is me. You want to feel my scalp?
KING: Yes.
BANKS: Yes? It's a little kinky in the scalp. That's like real black girl hair. But – go – go in there.
KING: Oh, yah. Yah.  This is kind of kinky.
BANKS: Yes. That's – Yes. It's kinky. Exactly.
Larry's lesson's apparently didn't end there.  He also learned the art of "smizing" from Tyra. What exactly is a "smize," you wonder? Tyra Banks explains.
BANKS: The eyes, it's all about the eyes.  The eyes are the window to the soul. If you're just dead, like this, you're not going to sell that eye makeup. But if you're like, "Buy it, buy it, buy it, buy it, buy it." But it's not something that just models – women can work this. You can get a second date by smizing. You can get a job by smizing on that job interview.
KING: Wait a minute. Can men smize?
BANKS: Oh, yes, you can smize, Larry. Will you try? No, too intense. Soften it. Soften it. Yes, yes, yes. Not with the lips. Only with the eyes. Novocaine mouth. Novocaine mouth. Dead mouth. Squint just a little bit. Not with the lips. Dead lips. Dead lips. Eyes. Nice. Work, work, work, work. Yes, you did it.
To see the art of the "smize" and more, catch Tyra Banks' appearance on Larry King Tuesday night at 9pm ET on CNN.