Oprah Winfrey had a live show this morning in New York City, and we were there and allowed to shoot the first five minutes of the show.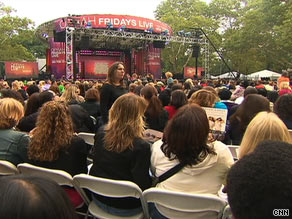 The big news is that Oprah's new book club selection is Uwem Akpan's "Say You're One of Them," a collection of five long stories about war-torn Africa.
The crowd was full of tourists and New Yorkers, including four guys from Missouri who were such big fans of Mariah Carey that Oprah brought them into the show to see her perform, and even let them introduce the singer. But what you didn't see was the four of them performing on stage for the full crowd before the cameras started rolling. They got to do a little karaoke for the assembled audience, which may have enjoyed their energy, but I don't think Simon Cowell would have approved.
The other thing that happened, and I don't know whether it will make air when you see the show, but there was a glitch with a live shot featuring Regis and Kelly. They clearly couldn't hear Oprah talking to them, and as someone who works in live television, I can sympathize.
But the crowd was eating up their Queen, and had a lot of energy considering that they had been waiting to get in since four or five in the morning.