We kicked it old school on "Runway" last night, from the newsprint used for fabric to the designer's middle-school antics.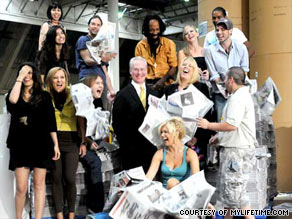 That might sound like the awesomeness that reality TV is made of, but "PR's" sixth season has this uncanny ability to take the right ingredients and deliver something tasteless.
But let's start at the beginning. Since we all know no one reads the newspaper, the producers figured we may as well make clothes out of them, so they hauled them all to the L.A. Times, because - obviously - they couldn't just bring the papers to the workroom. No, "PR" was all about the learning in this episode. They had to schlep them all down there just so Althea could exclaim: "They took us to these BUILDINGS where they make NEWSPAPERS." Yes, Althea -– and people are still getting paid for that too!
Fans, we have to admit... we finally got what we've been begging for. The newspaper challenge was an actual challenge, not a requirement to simply put the model in something decent and trot her down the runway. Should've been "Runway" gold, but it ended up more like lamé.
First, they have Tim Gunn do the most awkward - let alone unnecessary - history lesson on the fine art of paper clothing. Why? I don't even think Tim knew. That combined with the extended camera shot of the colorful permanent markers and paintbrushes made me think I was back in my 8th-grade art class. It definitely did fit the style of past seasons of "Runway."
Once the papier-mache was under way, Irina and Nicolas, who've proven to be closet trash talkers for the past few weeks, stepped it up a notch last night ragging on everyone from Johnny the Addict to Shirin, but only during their interviews. They're like freaking mice in the workroom.
Christian Siriano's rude comments and a limited vocabulary turned him into the "SNL" skit he is today because he laid it out there in all of its "hot tranny" glory, and I adored him for it. This season, between whiny-voiced, semi-talented Irina and whiny-voiced, definitely-not-talented Nicolas, the cattiness is unleashed only when no one's around to hear it. Even at the pinnacle moment, when Nicolas calls Johnny the Addict out on the runway for telling a crazily sewn lie, it was weak. No, I don't have a love-hate relationship with these secret backbiters; I've just got hate.
The resulting clothes, however, for the most part I loved. Althea, for all of her non-newspaper-reading, rocked it out, as did Christopher. Johnny the Addict … well. I guess that's why you shouldn't do drugs, kids.
Who do you think was a hit and a miss last night? Are you as tired of these whack challenges as I am? Let me know!