I covered US Weekly's annual event honoring the 25 most stylish New Yorkers here in Manhattan last night. The magazine honored recording artist Alicia Keys, designer Vera Wang, domestic maven Martha Stewart, models Elle MacPherson and Christie Brinkley and the Real Housewives of New York along with others.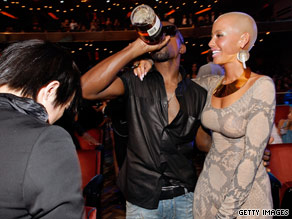 The red carpet was tiny, more like a remnant than a carpet. But plenty of television crews crammed into the less than adequate space allotted to capture footage of the attendees. It was an overcrowded mess at times and especially when one particular honoree, Amber Rose, arrived.
Rose is the woman who has been seen on the arm of Kanye West in recent months. She accompanied West to the MTV Video Music Awards. There they walked the arrival line that evening without speaking to the press - as West carried a bottle of alcohol in one hand.
Last night, the moment Rose, with her signature blonde crew cut appeared out of the darkness the still photographers began their usual screaming match. She obliged for a time posing for photos, and then she tried to make her way down the less than sprawling carpet. Some of the journalists yelled: "How's Kanye? How's Kanye?"
A reporter from another network managed to get close to Rose. He asked her what designer she was wearing, she replied inaudibly, smiled and as the shouts became nearly deafening she managed to quickly make her escape down the carpet and past the press with the help of publicists. Then she was gone. Unscathed.
Do you think Amber Rose should have answered questions about Kanye West's behavior?